FEATURED IN DETROIT FREE PRESS
Nikki Maybee, the owner of Salon Simply Beautiful in Berkley, talks about about what it takes to become your own boss and what men can do to support women in business.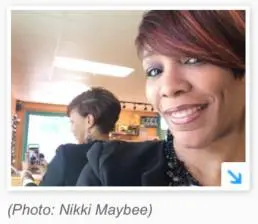 Nikki Maybee — the owner of Salon Simply Beautiful in Berkley— grew up in the hair business.
At 13, she started working for her mother, Eddie Sue Williams, a hairstylist to Motown stars, by sweeping up floors. She earned a cosmetology license while attending Redford High School in Detroit, graduated and became a stylist.
Then, she went to Wayne State University to become a teacher. But, Maybee said, she felt the pull of the salon — and before finishing her degree, she went back to hairstyling. For the next two decades, while she cut other people's hair, she saved money and dreamed about opening a shop of her own.
One day," Maybee said, she decided to call a salon on Coolidge that she had been driving by every day on her way to work. "I introduced myself, 'Hi, I'm Nikki. I'm looking to purchase a building. Would you be willing to talk to me?'"
For about a year, Maybee said, she and the owner, Ann Powell, went back and forth on price.
Powell had owned the shop for more than four decades. In 2007 — as the recession was beginning — Powell decided to sell. Maybee said she purchased the business for about $6,000. The building and parking lot next to it, cost her about $100,000.
Maybee renamed the shop, and started to grow the business from two stylists to eight.

We talked to Maybee about what it took to become her own boss, the challenges of being an entrepreneur, and what men can do to support businesswomen.